While persistent deflation and low growth prompted the ECB to expand its asset purchase program from €60 billion to €80 billion on a monthly basis; the addition of corporate bonds in its purchase portfolio comes at a time when buying options for Central Bank are steadily shrinking.
According to an analysis by Capital Economics, countries such as France and Italy have enough bonds on the market that the ECB could keep buying at its current rate for two to three years before it reaches to 33% limit set by ECB. In comparison, the available German bond pool will be exhausted in 18 months.
With a higher asset purchase target and no relaxation of restrictions on bond purchases such as limits on individual bond issues and bond issuers, the ECB was left with the option of expanding its buying portfolio by including corporate bonds.
______________________
Now, the question du jour is.... Was I right in my analysis and forcast? Well, let's ask Bloomberg - Portugal Bonds Falter as ECB Running Out of Eligible Debt to Buy:
Continued deviation from ECB bond-buying rules looks likely

Bond yields have climbed as market wakes up to lower demand
The European Central Bank is running out of Portuguese bonds to buy.
The central bank's holdings of Portugal's debt are already pushing the limit set by its own guidelines, leaving it likely to buy less this year to avoid breaking those rules. That prospect has led to a selloff in Portuguese government bonds, with 10-year yields having risen almost 40 basis points since the ECB's December meeting to hit an 11-month high last week.
The ECB will have to scale back Portuguese purchases by around a half, according to Commerzbank AG, while ABN AMRO Group NV sees it stopping or suspending them by June. To make up the shortfall, the ECB may continue to buy more bonds from other countries with a greater pool of eligible securities, such as Germany and France.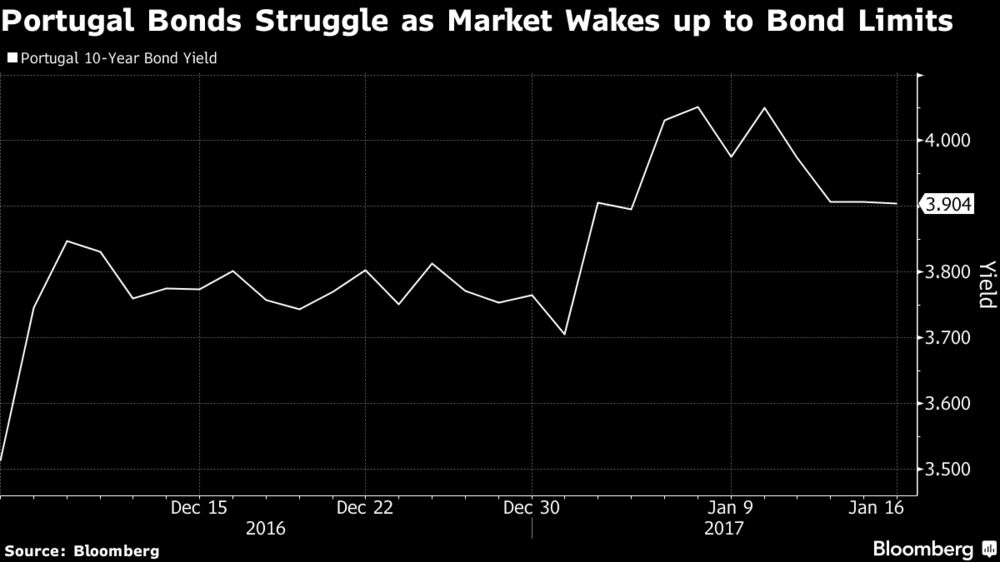 Now, of course, France and German bonds will run into the exact same problem shortly, all exacerbated by...
Not all wars R bullets & bombs. UK tax haven to suck in EU capital https://t.co/RRlFyr2cEV causing higher EU taxes https://t.co/4wwuyUnCz4 pic.twitter.com/tDPAff8Y4H

— ReggieMiddleton (@ReggieMiddleton) January 17, 2017
Remember my warnings given at the Baccarat Hotel in NYC?
Click here to subscribe to BoomBustBlog research, analysis and opinion.